A geologist is a person who digs up rocks, they basically study the history of the earth.
My prediction and results:
For my prediction, I said for the hard cookies 8 chocolate chips on the top and 4 on the bottom. For the soft cookie, I said 7 on the top and 0 on the bottom. The supplies that I needed for the project was a toothpick, chocolate chips and a cookie.
My  conclusion:
I found a lot of chocolate chips on the hard cookie and I found less on the soft cookie,
Here is a picture of me doing the project: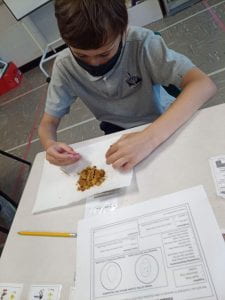 +
Here is a video of the geologists: